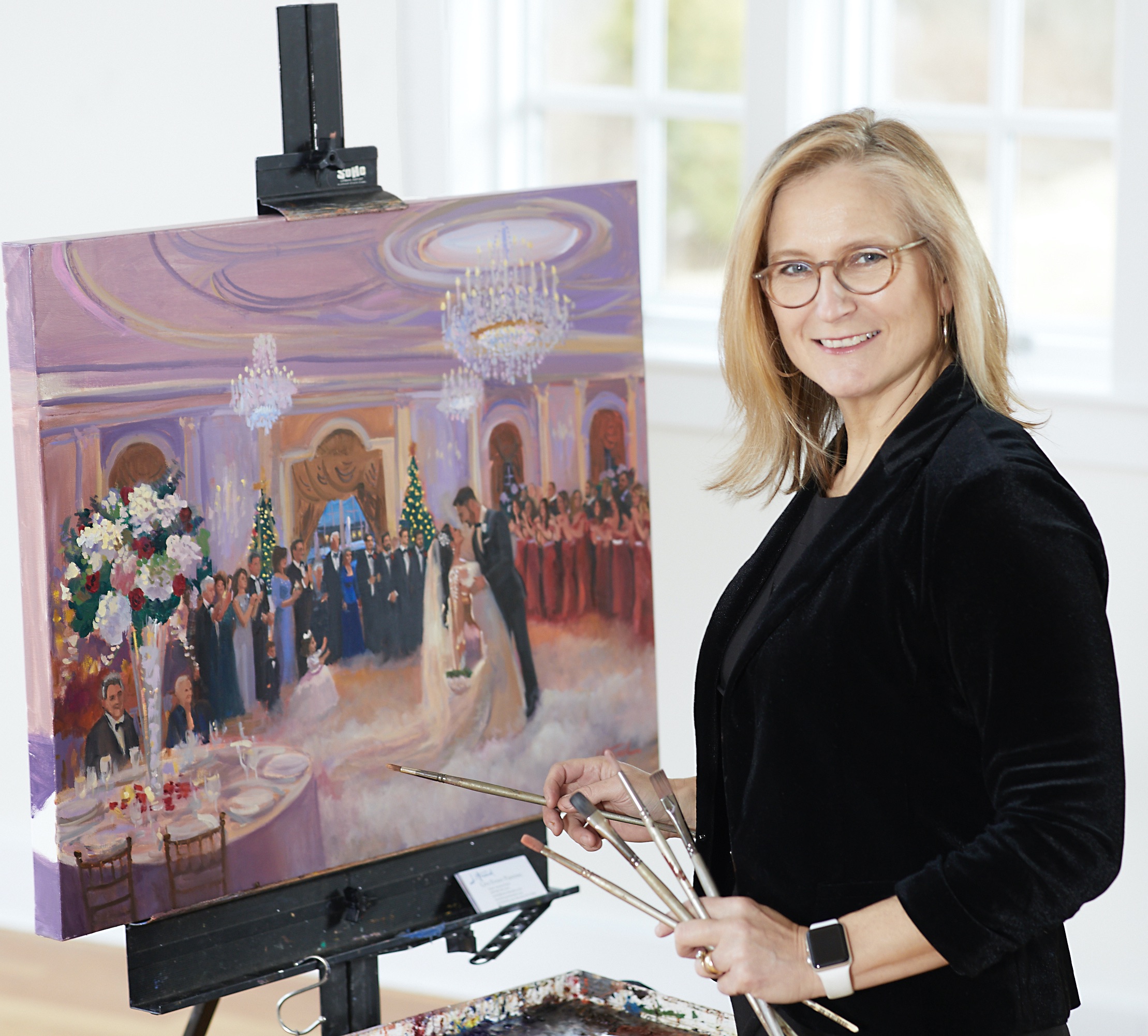 Hudson Valley fine artist Janet Howard-Fatta creates a variety of works from landscapes in oil depicting place and time, to figurative works in wet and dry media. Light, color and a love of nature are the driving forces behind her work.
Janet's work reflects a relationship between the world around her and the painted image. She strives to create a visual representation of what she experiences through her senses.
Janet received a BFA in painting at Pratt Institute. Currently she paints events on weekends and is a board member of the Orange County Arts Council. Janet facilitates the Warwick Life Drawing Group at the Seligmann Center. She lives in the Hudson Valley – Warwick, NY, surrounded by the beauty of a rural landscape that includes farms, mountains and state parks.
Janet is volunteers her time as board President of Orange County Arts Council to foster the arts in her community.
It is as if all the years of studying, practicing, and observing with my paints were directed toward this moment in time to create works of art for celebrations. Creating works of art about love has become my passion. When I painted a friend's backyard maple sap boiling party, it combined all I know about painting: the landscape, the figure, and the light made the connection to joy and love.
I'm a people person who doesn't want to be in the studio alone. I love people and relationships. This touches my soul and warms my heart. I believe our gatherings are benchmarks of life's special days, when love and pride are shared and I am so honored when I have the opportunity to celebrate it by creating a work of art.
When I begin a painting in oils, I tone the surface with a mixture of turpentine and a tone. Then find my way around the surface with a brush quickly making marks, defining space, looking for pure color first and then blocking in shapes. Creating illusion and the interaction and perception of color is important to me. I work quickly and intuitively. It feels a bit chaotic, like the ground is out from under my feet.
I try to feel the subject and the ways in which I am connected to it. Time of day, atmosphere, temperature, light, movement, season…all inform a painting. This allows sensory exploration into a combination of representation and painterly abstraction. I know a piece is finished when it feels like a poem.
I choose to work in oil because of the luscious qualities of this medium. When painting from life, I experience the joy of being present. This work is both challenging and rewarding.
Started oil painting at age 12
Besides painting – Love hiking, gardening, and cooking.
Avid vegetable/flower gardener.
If I could grow chocolate in New York I would.
Extensive Chocolate bar wrapper collection
2 kids, 1 still in college.
Born and raised in Staten Island
Went to HS of Art and Design, NYC.
Worked in Yellowstone National Park during college one summer and studied in Venice Italy the next.
Favorite artists are Sorolla, Vermeer, Sargent and Andrew Wyeth, Hopper, and this list changes often.
I make a daily gratitude list.
I love to write, but not necessarily feel comfortable sharing my writing. I love poetry when I can slow down enough to appreciate it.
– To inquire about a painting or a commission –
Please Contact me